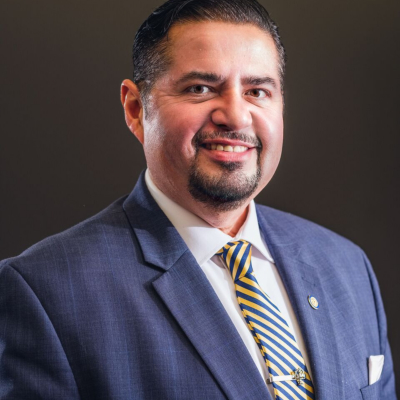 The History of Our Firm and About the Founding Attorney, Joe Flores
Mr. Flores grew up in rural South Texas. By the age of 6, he was selling newspapers. In his teens, he gained a keen interest in speech, debate, film, and the medical field.
Both his father and mother were his inspirations and obtained their college degrees in their 40's in education and nursing respectively. Mr. Flores also worked in agriculture summers with his father to learn a strong work ethic. His first healthcare jobs in the hospital were as a nurses aide and a pharmacy technician at the age of 16. He was president of Health Occupations Students of America ( HOSA) and a medical spelling state champion and a national finalist in First Aid CPR in high school.
After high school, Mr. Flores attended RN school and began practicing nursing in ICU at the age of 20. For the next 10 years, he studied part and full-time to obtain his bachelor of science and his Master of Science degree as a family nurse practitioner degree while working night shifts in intensive care and helping care for his ill father.
During that time, he created his own legal nurse consultant business and worked with some of the most highly successful attorneys and law firms in Texas. This inspired Joe to immediately attend law school after graduating as a family nurse practitioner in the late 90's with his Master of Science degree. He is one of the few federal and state trial attorneys in the United States that represents nurses and whistleblowers while still finding time to practice part-time as a nurse practitioner in hospice and palliative care.
Mr. Flores attended South Texas College of Law, a school known for its consistent and record-breaking national championships in mock trial, moot court, and appellate brief writing. Mr. Flores was the managing editor of the International Law Journal while in law school and was published twice as well as participating in civil and criminal intramural mock trials. He graduated from South Texas College of Law with Doctorate in Jurisprudence.
Joe was admitted to the Texas Bar in 2001 and also began federal law practice a few years later. Mr. Flores' practice has consisted of areas as far-ranging as personal injury, health law, civil and criminal trial law to protecting health care providers. He also creates health business models as well as advising health care agencies and professionals on health fraud prevention. The firm also offers services in acquisition and merger of various health care practices including telemedicine, home health and physician clinics, as well as nurse practitioner-owned clinics.
Joe's early fascination with film and television inspired him since he was a child to appear on intellectually competitive shows such as Challenge Bowl and in his 30's he began creating television programming where medicine and the law overlap. He created programming on Latino television in English and Spanish. Joe has interviewed Congressman, Senators, civil rights activists, actors, artists and civic leaders for the past 15 years.
Mr. Flores also has served on several non-profit boards and volunteered on medical and nursing projects. Joe has been a member of the international society of nursing-Sigma Theta Tau for over 20 years and is a retired CCRN-certified in critical care. He is also certified in non-profit management through the University of Texas at Austin and as a Healthcare Executive from Cornell University.
Joe continues his philanthropic efforts in ballet, the fine arts and preventing students from dropping out of high school. He and his wife, an RN entrepreneur and philanthropist in her own right, continue to support the arts and their daughter has performed as a ballerina in the United States and Europe.
As General Counsel for one major organization in South Texas, Mr. Flores created the non-profit entity Education is Our Freedom in his capacity as an attorney, which selects at-risk teens to attend college free if they obtain their GED and successfully attend college through the generous contributions of individuals and business entities. The program has between an 88-92 percent success rates for those that otherwise were headed to incarceration but for early intervention through the program in South Texas.
Mr. Flores also has been a regular on the Prison Show out of Houston, Texas, the only show of its kind that reaches prisoners via radio, and advocates against mass incarceration of non-violent offenders and the disproportionate incarceration of people of color and poor whites.
Joe is also a national speaker and a prolific writer and blogger on areas where law and medicine overlap as well as on the opioid crisis and health fraud prevention.
Mr. Flores can be reached at [email protected] or 361-887-8670.